Your KLM flight is delayed. You see that online.
But what does that mean for you, right now and at this moment? Should you wait at home or hotel, or should you proceed to the airport as planned? Because, you know, there are all sorts of flight delays. There are 30-minute flight delays, and there are also 23-hour flight delays. What if this is the latter one? Will you have to wait at the airport for 23 hours until KLM finds a solution?
It depends…. But mostly the answer is very simple.
Should You Wait or Proceed as Planned?
Where are you right now? At home? At airport?
1. You Are at the Gate, Waiting for Flight
If you're already at the airport, at the gate – wait somewhere there.
Wait for updates on your flight.
2. You Haven't Gone Through Airport Security
If you are at the airport, but haven't yet gone through airport security, wait where you are. First, find out what is happening with check-in for this flight. Find out if check-in time has been changed or not. Do the same if you are still at home or hotel.
If check-in is delayed — wait, don't go through security.
Have you already checked in online?
Wait anyway. Don't proceed until check-in starts.
3. You Are at Home or Hotel
Find out if check-in time has been changed or not.
Call KLM or airport information desk to find it out. This is important, because if the check-in is delayed too, there's no need to go to the airport right now. If, however, check-in time is the same, it is better to proceed to the airport as planned — especially, if you still have to do airport check-in, and if you are travelling with checked baggage.
If check-in is delayed — wait at home or hotel.
If check-in is not delayed — go to the airport.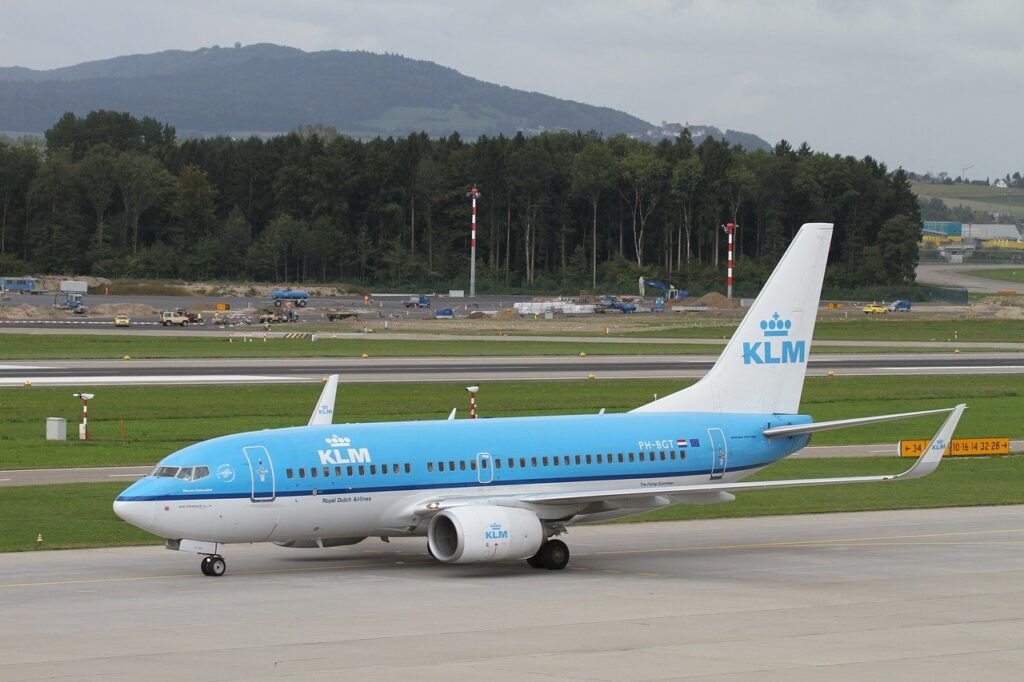 How to Check KLM Flight Status Online?
There are three best options how to check flight status online:
Airport website (from where is your flight)
Airline website (klm.com in this case)
Flight trackers like Flightradar24
It's a very good idea to check flight status before going to the airport. Especially, if it's an early morning flight. No one likes arriving to airport at 5 am, only to wait for 7, 12 or 22 hours. In this case, it's the best to do it right after you wake up, maybe your flight is cancelled, and there's no need to wake up this early, and also – right before you are about to leave home or hotel.
Usually travellers find out about the delay:
By SMS or email notifying of the delay
When checking the flight status online
Already at the airport, or even at the gate
What If You Are Going to Miss Connecting Flight?
If it's a connecting flight with KLM, you are protected.
If you'll miss connecting flight, KLM will give you a new flight for free. You won't have to pay for this. You also won't have to look for this flight, KLM will find a new flight for you. At first, you don't have to do anything. Just wait for your flight. Then, when you have missed a connecting flight, get in touch with KLM at the airport, and they will offer you assistance on the spot.
If, however, it's a self transfer, then this other flight is your responsibility. If you miss a connection, you will have to buy a new flight yourself.
You may also have a right to KLM flight delay compensation.
Right to Care at the Airport
If you have to wait at the airport, you have a right to care.
If there is a flight delay, KLM has to take care of you.
If it's a rather short delay during the day (3+ hours), KLM must offer you free meals and drinks, two free phone calls, e-mails or faxes. Mostly all of that is offered in the form of coupons.
If your flight is leaving only on the next day (overnight delay), free hotel accommodation and free transfer from the airport and back to the airport, should be provided by KLM. And, they should also offer you a meal or two for free.
Get in touch with KLM if you haven't yet received anything.
Featured photo by Ketut Subiyanto